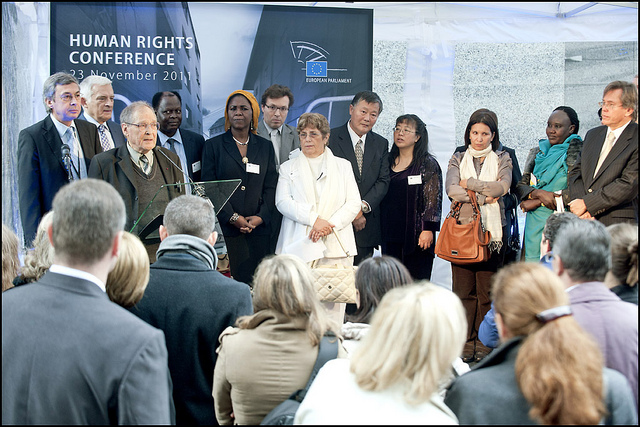 Overseas Chinese Democracy Coalition News and Article Release Issue Number: A668-O192
中国民主运动海外联席会议新闻与文章发布号:A668-O192
Release Date: Nov. 26, 2011
发布日:2011年11月26日
Topic: Media Reports about Wei Jingsheng in Europe (also in photo, audio and video)
标题:若干关于魏京生访欧的报道(及图片,录音,录像)
Original Language Version: English/Chinese (Chinese version at the end)
此号以英/中文为准(英文在前,中文在后)
Note: Please use "Simplified Chinese (GB2312)" encoding to view the Chinese parts of this release. If this mail does not display properly in your email program, please send your request for special delivery to us or visit:
http://www.weijingsheng.org/report/report2011/report2011-11/WeiJSinEurope111126reportsA668-O192.htm which contains identical information.
-----------------------------------------------------------------
Media Reports about Wei Jingsheng in Europe (also in photo, audio and video)
Note by the editor:
On Nov. 14, Wei Jingsheng and Huang Ciping went to Europe to attend several events and meet with many European human rights supporters and Chinese democracy activists. They traveled to several cities in France, Switzerland, Germany, and Belgium. In Belgium, they were invited to attend a high level human rights conference organized by the European Parliament, the "human rights hub" of the world, as described by Parliament's president Jerzy Buzek. During the period, Wei Jingsheng received interviews from several news media. Below are some of them.
__ __ __
Sakharov Prize honours Arab activists
-- by EuroNews, Nov. 24, 2011
This year's Sakharov Prize for freedom of thought has gone to five activists from North Africa and the Middle East for their role in the Arab Spring.
Asmaa Mahfouz from Egypt, Ahmed al-Zubair Ahmed al-Sanusi from Libya and Razan Zaitouneh and Ali Farzat from Syria were all honoured. Tunisian Mohamed Bouazizi received a posthumous award.
Algeria's Salima Ghezali, a Sakharov winner in 1997, told euronews the region's fight for freedom was nothing new.
"Democracy doesn't exist in Arab countries at the moment, and yet the struggle for this in the Arab world is old. It's only recently that we've started paying attention to this struggle," she said.
The European Parliament has awarded the Sakharov prize every year since 1988 to individuals or groups seen to have contributed towards the fight for human rights or democracy.
Chinese Sakharov laureate Wei Jingsheng said: "I think of all the freedoms and rights, the most important is the freedom of expression. This is what the Chinese people have been struggling for, to be able to express themselves, especially through the internet. But, this is exactly the arena the Chinese government is strictly controlling. Hence, the reason why you're seeing such a conflict between both sides."
While social media was recognised to have played a part in the Arab revolts, the EU parliament's President Jerzy Buzek insisted human spirit was the overriding factor.
Also present at the award ceremony was Reyes Castanon, a member of the Cuban dissident movement, 'The Ladies in White', who won the award in 2005.
"Without the Sakharov Prize, Europe would not have really known about 'The Ladies in White'. People came to see us, like as if it was a show, while others came in solidarity." Reyes said.
The prize is named in honour of the Soviet physicist and political dissident Andrei Sakharov.
Copyright (c) 2011 euronews
Original link:
http://www.euronews.net/2011/11/24/sakharov-prize-honours-arab-activists/
Related video link:
http://www.youtube.com/watch?v=faZP_uXwKB4&feature=youtu.be
__ __ __
Wei Jingsheng Visits Europe, to Participate in the Sakharov Prize and Other Activities
-- by Tian Yi of Radio Free Asia, Nov. 21, 2011
The well-known Chinese dissident and the laureate of the European Parliament's Sakharov Prize for Freedom of Thought in 1996, Wei Jingsheng, came to Europe for visit where he will participate in a series of activities.
In December 1988, the European Parliament established the Sakharov Prize to recognize people who have made outstanding contributions to human rights and freedom in the world. Nelson Mandela of South Africa was the winner in 1988, while Aung San Suu Kyi of Burma was the winner in 1990. Mr. Wei Jingsheng and Mr. Hu Jia of China received this prize in 1996 and in 2008 respectively. This year, the prize was awarded to five representatives who strove for human rights and freedom in the Arab countries.
This reporter had learned that the 1996 winner and prominent Chinese dissident Mr. Wei Jingsheng came to Europe from the United States last week, and will participate in a series of activities. To this end, the reporter interviewed Mr. Wei Jingsheng in the evening of November 20, 2011.
About his current visit to Europe, Mr. Wei Jingsheng said, "The main reason is to come to the European Parliament for some conferences related to the Sakharov Prize, then give some speeches and interviews, etc. This is our main work on the surface. Of course, I knew that as soon as we arrived, we would be talking about a lot of politics with a lot of friends. Right after we arrived, we had a meeting with both the China division and human rights sector of the European Union. We discussed a lot of details regarding the current circumstances in China."
Regarding the specific content of the meeting, Mr. Wei Jingsheng said, "The main theme from the beginning of course started from the human rights perspective. In discussing human rights, we used Ai Weiwei as an example to talk about some characteristics of the deteriorating human rights situation in China. For instance, being subjected to torture. Nowadays, the use of torture has become a more common feature in China.
The second example we discussed is the increasing use of some 'illegal' means to deal with the political opposition; for example, Residence under Surveillance and the like. The authority could arrest people without any legal formalities.
The third we discussed is the use some 'more special' means, for example, saying you owe lots of taxes, and then use these methods to deal with you. A few years ago, it was prostitution and now it is taxes, etc. These 'charges' are more acceptable to Westerners. The Communist regime's practice of human rights violations, in addition to being more than cruel, has also become more cunning!"
Mr. Wei Jingsheng said that in addition to human rights issues, they also discussed some broader issues people are very concerned about. He said, "Of course we talked in more depth about the political future of China. For example, which kind of changes will be in China's political future, and which kind of role the European Union should play. We proposed that the European Union increase its concern regarding human rights in China, and increase some interventions. It should play some positive role in the process of democratization in China, as well as leave some positive impression on the vast number of people in China. This will be important to the future long-term relationship in between the EU and China. They also agreed with these views."
The above report is by the special correspondent Tian Yi of Radio Free Asia, reporting from Germany.
Original link of this report:
http://www.rfa.org/mandarin/yataibaodao/wei-11212011105341.html
report in audio:
http://www.weijingsheng.org/interviews/interviews2011/WeiJSinEurope111121RFAreport.mp3
__ __ __
Related photo (photo credit: European Parliament):
Wei Jingsheng at the Sakharov Debate 2011 "Role of Women in Democratic transition" (In the photo: Wei Jingsheng, Lakshmi PURI, Vildana SELIMBEGOVIC, Hauwa IBRAHIM, and Aliaksandr MILINKEVITCH)
http://www.weijingsheng.org/pic/newsletters/newsletters2011/newsletters2011-4/WeiJSdebates111123EuropeanParliament.jpg
original link of the photo:
http://www.flickr.com/photos/european_parliament/6394543179/in/photostream/
-----------------------------------------------------------------
This is a message from WeiJingSheng.org
The Wei Jingsheng Foundation and the Overseas Chinese Democracy Coalition are dedicated to the promotion of human rights and democratization in China. We appreciate your assistance and help in any means. We pledge solidarity to all who struggle for human rights and democratic governance on this planet.
You are welcome to use or distribute this release. However, please credit with this foundation and its website at: www.weijingsheng.org
Although we are unable to afford to pay royalty fees at this time, we are seeking your contribution as well. You may send your articles, comments and opinions to: HCP@weijingsheng.org. Please remember, only in text files, not in attachments.
For website issues and suggestions, you may contact our professional staff and web master at: webmaster@Weijingsheng.org
To find out more about us, please also visit our websites at:
www.WeiJingSheng.org and www.ChinaLaborUnion.org
for news and information for Overseas Chinese Democracy Coalition and human rights and democracy movement as whole, especially our Chinese Labor Union Base.
You may contact Ciping Huang at: HCP@Weijingsheng.org or
Wei Jingsheng Foundation office at: 1-202-270-6980
Wei Jingsheng Foundation's postal address is:
Wei Jingsheng Foundation, P. O. Box 15449, Washington, DC 20003, USA
You are receiving this message because you had previous shown your interest in learning more about Mr. Wei Jingsheng and the Chinese Democratic Movement. To be removed from the list, simply reply this message and use "unsubscribe" as the Subject. Please allow us a few days to process your request.
*****************************************************************
中文版
Overseas Chinese Democracy Coalition News and Article Release Issue Number: A668-O192
中国民主运动海外联席会议新闻与文章发布号:A668-O192
Release Date: Nov. 26, 2011
发布日:2011年11月26日
Topic: Media Reports about Wei Jingsheng in Europe (also in photo, audio and video)
标题:若干关于魏京生访欧的报道(及图片,录音,录像)
Original Language Version: English/Chinese (Chinese version at the end)
此号以英/中文为准(英文在前,中文在后)
如有中文乱码问题,请与我们联系或访问:
http://www.weijingsheng.org/report/report2011/report2011-11/WeiJSinEurope111126reportsA668-O192.htm
-----------------------------------------------------------------
若干关于魏京生访欧的报道(及图片,录音,录像)
编者的话:
2011年11月14日,魏京生与黄慈萍启程到欧洲参加数项活动,并与欧洲的人权支持者及旅欧的中国民运人士会面。他们访问了法国、瑞士、德国、比利时的多个城市,并参加了由欧洲议会组织的高层人权会议。如欧洲议会主席布泽克(Jerzy Buzek)所述,欧洲议会是世界人权的中心。在此期间,魏京生接受了多个媒体的报道。以下为其中的一部分。
__ __ __
萨哈罗夫奖表彰阿拉伯活动家(欧洲新闻报道)
24/11/11
今年的萨哈罗夫自由思想奖被赋予北非和中东的5个活动家,以表彰他们在阿拉伯之春中的作用。
埃及的Asmaa Mahfouz,利比亚的Ahmed al-Zubair Ahmed al-Sanusi,叙利亚的Razan Zaitouneh和Ali Farzat都受到的表彰。突尼斯的Mohamed Bouazizi得到追认。
1997年的萨哈罗夫奖得主,阿尔及利亚的Salima Ghezali告诉欧洲新闻,该地区为自由而战不是什么新鲜事。
"阿拉伯国家目前还没有民主。然而,为此在阿拉伯世界的斗争已有很久。只是到最近,我们才开始关注到这场斗争,"她说。
自1988年以来,欧洲议会每年都将萨哈罗夫奖授予那些在争取人权或民主的斗争中有贡献的个人或团体。
中国的萨哈罗夫奖得主魏京生说:"我认为所有的自由和权利中,最重要的是表达意见的自由。这是中国人民一直在努力奋争的,为的是能够表达自己,特别是通过互联网。但这正是中国政府严格控制的领域。这是为什么你看到双方冲突的原因。"
虽然社交媒体在阿拉伯起义中起了部分作用,欧洲议会的总统布泽克(Jerzy Buzek)坚持人文精神是最重要的因素。
2005年的得奖者,古巴持不同政见者运动"白衣女士"的成员之一Reyes Castanon,也出席在颁奖仪式上。
"没有萨哈罗夫奖,欧洲就不会真正了解'白衣女士'。人们来看我们,就好像是一场秀,而其它人团结在一起。"Reyes说。
这个奖项是以苏联物理学家和持不同政见者萨哈罗夫命名的。
版权所有(c)2011欧洲新闻
原文出处:
http://www.euronews.net/2011/11/24/sakharov-prize-honours-arab-activists/
相关录像:
http://www.youtube.com/watch?v=faZP_uXwKB4&feature=youtu.be
__ __ __
魏京生访问欧洲,参加萨哈洛夫奖颁奖等系列活动
2011-11-21
中国著名持不同政见者,欧洲议会设立的萨哈洛夫奖九六年获得者魏京生先生到达欧洲访问,并且将参加一系列的活动。
一九八八年十二月,欧洲议会设立萨哈洛夫奖,奖励世界上对于人权和自由有卓越贡献的人。南非的曼德拉是八八年得主,缅甸的昂山素季是九零获得者。中国的魏京生先生和胡佳先生分别在九六年和零八年获得这项奖。今年该奖发给了五位阿拉伯国家争取人权和自由的代表人。记者获悉,九六年获得者,中国著名持不同政见者魏京生先生上周从美国来到欧洲,将参加一系列的活动。为此,记者二十号晚上采访了魏京生先生。
关于他这次到欧洲的访问,魏京生先生介绍说,"这次主要事情是到欧洲议会来开会。到欧洲议会来,主要是萨哈洛夫奖发奖,然后会有很多的的讲演、采访等等。这是我们来这里的名义上的主要工作,当然我们一来我就知道,到这里来很多欧洲的朋友要谈政治。所以,我们一到这里,欧盟的中国部门和人权部门联合起来和我有一个会谈,谈了很多关于中国当前的具体情况。"
关于会见讨论的具体内容,魏京生先生介绍说,"主题一开始当然是从人权角度来谈这些问题。人权角度我们就以艾未未这个案件为例,谈到中国的人权状况最近一些恶化的特征。比如说,首先来讲艾未未现在受到酷刑。现在使用酷刑越来越普遍,这是一个特征。
第二特征呢,越来越多地使用一些'非法'手段,比如说监视居住啊等等这些手段,来对付那些政治反对派。可以不用通过任何法律手续就抓人。
第三个呢,还使用一些'更为特殊'的手段,比如说说你欠税,你欠了很多税,然后用这些方法来整你。前几年用你嫖娼,黄色,现在又是欠税等。这样让西方人觉得你不太好接受。共产党侵犯人权的手法,除了更残酷以外,也变得更加狡猾!"
魏京生先生说,除人权问题外,他们也讨论了人们非常关切的一个更加广泛的问题。对此,他说,"当然我们更深入地谈到中国的政治前途。中国的政治未来会有什么变化,欧盟会起一些什么作用。我们就建议欧盟,对于中国的人权状况增加一些关注,增加一些干预。这样对于中国的民主化过程会起一些正面的作用。也会给中国广大的老百姓留下一些正面的印象。对于欧盟和中国将来的长远的关系是重要的。他们也同意这些观点。"
以上是自由亚洲电台特约记者天溢由德国发来的报道。
报道的原始连接:
http://www.rfa.org/mandarin/yataibaodao/wei-11212011105341.html
相关录音:
http://www.weijingsheng.org/interviews/interviews2011/WeiJSinEurope111121RFAreport.mp3
__ __ __
魏京生在欧洲议会活动的相关图片(欧洲议会摄):
http://www.weijingsheng.org/pic/newsletters/newsletters2011/newsletters2011-4/WeiJSdebates111123EuropeanParliament.jpg
图片的原始连接:
http://www.flickr.com/photos/european_parliament/6394543179/in/photostream/
-----------------------------------------------------------------
魏京生基金会及中国民主运动海外联席会议以推动中国的人权与民主为己任。
我们欢迎任何形式的帮助与贡献。我们愿与世界上为人权与民主而奋斗的人们一起努力。
我们希望您能够帮助我们散发我们的资料。但请标明出处与我们的网址:www.weijingsheng.org
欢迎投稿(暂无稿费)或批评建议,请寄信箱: HCP@WEIJINGSHENG.ORG
魏京生基金会电话: 1-202-270-6980
通讯地址:Wei Jingsheng Foundation, P. O. Box 15449, Washington, DC 20003, USA
魏京生基金会及中国民主运动海外联席会议网址:WWW.weijingsheng.org
中国团结工会的网址为:www.ChinaLaborUnion.org
阁下之所以收到本信,是因为阁下以前曾表示有兴趣了解魏京生先生和中国民主运动。
倘若阁下希望不再收到类似信息,请回复本信并用 unsubscribe 作为主题(Subject)。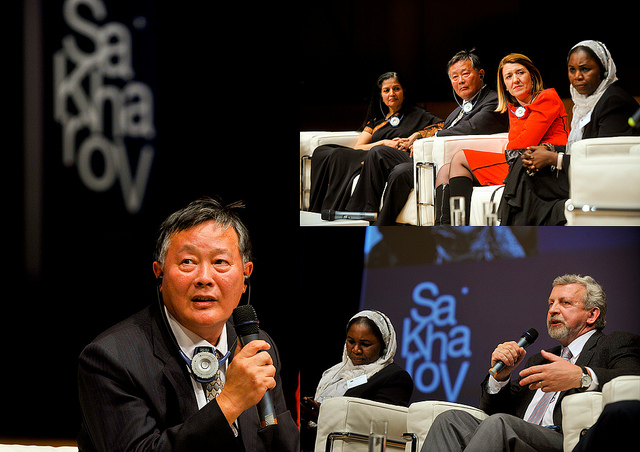 ---